From the beginning of Bent Metal's relaunch our Flex Control Drive Plate has been a key performance feature in every model. We make them right here in Sequim, WA at Mervin Mfg. They are finely tuned to each model's preferred terrain and rider style and feature beautifully realized eco-sublimated works of art. Our product development manager and 30+ year Mervin employee Paul Ferrel along with engineers Dain Engebretsen and Ryan Smith worked tirelessly to develop this technology then passed them off to our crew of pros and influencers (Team Works) to test. Team Works loved them but also beat them up and so Paul and crew set out to further refine the tech to withstand Team Works abuse. Over five years this cycle of abuse and refinement has made and continues to make this unique industry leading tech even better. They rip, they're fun and most importantly they work!
What is a Flex Control Drive Plate?
Flex Control Drive Plate is another name for the footbed in our bindings, it's unique to BMBW and featured across our entire line. Essentially it is like having a little snowboard inside your binding who's flex and material's reaction properties are curated specifically to each binding models intended terrain and rider style. We use fiberglass panels in the footbed to create specific flex patterns similar to your snowboard for personalized binding response. The dynamic energy of the advanced composites gives you a flex control advantage like no other binding can.
What goes in to a Flex Control Drive Plate?
We pull from all of Mervin Mfg.'s vast material catalog / history / expertise to create smooth high performing rides throughout the line. From top to bottom a Flex Control Drive Plate is built like this: first an EVA foam footbed, then the Eco Sublimated top sheet featuring whatever sweet art / branding we have going, then the first flex modifier. The flex modifier rangers from softer bi-axial fiber to boron to magnesium or even carbon fiber on the stiff side. Next we have a UHMW core or a Poly core, another layer of your flex modifier, the co-ex bottom sheet and finally a fiber reinforced nylon cage that connects the drive plate to the binding's base plate.
What part is Mervin Made in Sequim, WA?
We lay up our Flex Control Drive Plates in big sheets and press them just like Lib Tech and Gnu snowboards do right here in Sequim, WA. Just like Mervin Made snowboards we use Mervin's zero hazardous waste Eco-Sublimation printing process. These sheets are then shipped to the binding assembly factory where they add the EVA foam and fiber reinforced nylon cage finishing off the binding.
What binding model uses what drive plate construction?
LOGIC and BOLT
JOINT and METTA
TRANSFER, STYLIST, AXTION and FORTE
COR-PRO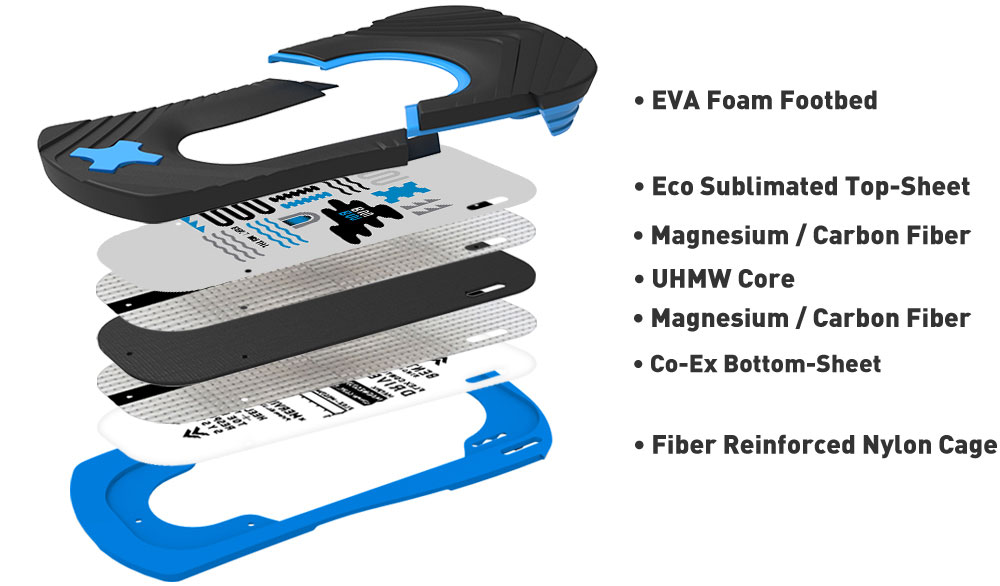 SOLUTION
Where do you guys get all the great art and design for your Flex Control Drive Plates?
We are lucky to work with a bunch of amazing artists from around the globe all curated by our Art Director Ben Lardy. Ben also does art and design for a lot of our more heavily branded models like the Axtion, Bolt and Joint as well as lending his original art to the Blue Transfer model this year. Ben is an avid snowboarder, skateboarder and student of underground design especially that which swirls around youth culture. These influences help him curate an eclectic look that is still very much BMBW pulling in classic Mervin masters like Quincy Quigg and Nick Russian and mixing them with outlier's like Elevator Teeth. This approach keeps the line fresh making sure each individual color way has a fun voice of it's own.